This is a Sponsored post written by me on behalf of Tom's of Maine for SocialSpark. All opinions are 100% mine.
I honestly had never considered using an all natural toothpaste, before receiving a tube of Tom's of Maine Anticavity Silly Strawberry Toothpaste to review. I purchase all natural products whenever possible, but toothpaste was not on my radar. I was very curious to learn what makes Tom's of Maine toothpaste different from all the others.
Tom's of Maine toothpaste contains no artificial dyes or sweeteners. Silly Strawberry toothpaste has real strawberry flavor derived from strawberry extracts and other natural flavors. It's the first and only all natural kids toothpaste to earn the American Dental Association's Seal of Acceptance for cavity protection.
We had strawberries with whipped cream for dessert this evening, so Maddie thought it was neat that she was brushing her teethe with real strawberry flavored toothpaste. She says it smells and tastes like real strawberries. Maddie doesn't really care for most of the strong mint flavored toothpaste that we typically use and many of the children's brands taste very artificial. Hopefully she will brush longer, since she likes the taste of Silly Strawberry so much. I feel good knowing that her bed time routine will no longer contain artificial dyes or sweeteners.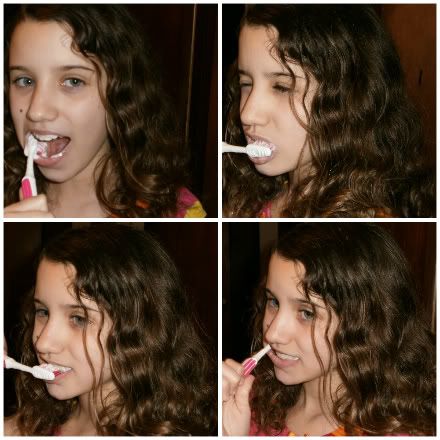 The key to getting your child to brush is to make it fun. Engage your children in the activity and make it seem like brushing is a fun thing to do rather than a chore. Your enthusiasm is contagious! If you are enthusiastic about the activity, your children will be enthusiastic (source: SaveYourSmile.com). Maddie had a blast during our Silly Strawberry photo shoot this evening. I think we'll have to pull out the camera at bedtime more often.
Tom's of Maine is hosting a really fun online event on March 14, 2012 at 7:30 PM EST! Gather the kids around the computer and visit the Tom's of Maine Facebook page for Silly Strawberry Story Hour and watch a reading of the new children's book  It's A Big World, Little Pig by Olympian and author Kristi Yamaguchi. You can even participate in a live Q&A with Kristi via the Live Chat tab. Sounds really fun doesn't it! It get's even better – Participants of Silly Strawberry Story Hour will have the chance to receive a Tom's of Maine Silly Strawberry free sample and a copy of Kristi's new book. I'm really looking forward to this event!
Tom's of Maine Silly Strawberry is available at retailers nationwide with and without flouride.
Disclosure: Tom's of Maine provided me a product sample, to facilitate a review. All thoughts are my own.