This is a Sponsored post written by me on behalf of World Market for SocialSpark. All opinions are 100% mine.
Last weekend my daughter and I spent a day in Atlanta for some shopping. You might already know that we live pretty far out in the country, so things like shopping are well planned out and we often make a day of it. At the top of our list for this particular shopping trip was a visit to World Market to see what everyone's been talking about, and to check out what Father's Day Gifts were available.
Having not been to the store before, we hadn't a clue that we would be sucked into an all morning shopping marathon. It turns out that World Market is just our kind of store and we easily could have blown our budget for the whole month in there. Thank goodness for the low every day prices and great sales, and a little restraint!
This beautiful patio set was sitting just inside the door. It's one of those floor displays that just beckons you to sit down and stay for a while. I think it would look quite lovely out on my screened porch.
There were so many wonderful things for the home like the pretty sea shell place setting pictured above. The back of the store was a foodie's delight with a beer and wine cellar, coffee and tea from around the world, and gourmet snacks to make your mouth water.
Back to the reason for our trip to World Market — Father's Day. You see the guy pictured below. That's my son and he likes to grill. He recently mentioned that he would like to have a grill basket for cooking foods like shrimp and fish on the grill, so lucky for him I found one of those and a whole lot more in the BBQ & Grilling section of the store. There were actually three different displays throughout the store, each bursting with everything a grill master could possibly want.
As far as I'm concerned, buying the husband, son, or special guy in your life some grilling gear is a win for everyone. If he has great grilling gear he's more likely to do the cooking, so that's less cooking for you.
I found so many fabulous things, that I decided to put a Father's Day Grilling Gift Basket together. I used an inexpensive plastic tub that I already had and filled it up with the grilling items I found at World Market. Here's that grilling basket that my son wanted to cook shrimp and fish.
My daughter and I also picked up some extra long tongs, a bottle of Kansas City Cowtown BBQ Sauce, gourmet grilling planks, a small sauce pan with a silicone brush, and a non-stick rectangular grill grid that will keep small things from falling through the cracks.
Doesn't Dad deserve some snacks when he's outside grilling?
The Beer and Wine Cellar has a really cool area where you can mix and match a six pack of beer with beers from around the world. My daughter and I didn't recognize any of them, so we went with the ones that had the most unusual names and labels. He should get a real kick out of it. You can't have beer without peanuts, so we grabbed him some of those too.
We are just thrilled with how this Father's Day grilling gift basket turned out. My son is going to be so happy on Father's Day! We were also so happy to have finally shopped at World Market. The staff was incredibly helpful and friendly. They even signed us up for a free World Market Explorer membership while we were there, so that we can take advantage of special savings and offers. I'm looking forward to getting $10 to spend at World Market on my next birthday!
Giving Dad the tools he needs for grilling out means good food and good fun for everyone, and it's simple to put a fun Father's Day summer spread together when there are more hands helping out!
World Market wants to help you celebrate the Dad in your life too! Cost Plus World Market is celebrating Dad this year with their Dad's Day Sweepstakes. It's pretty fantastic!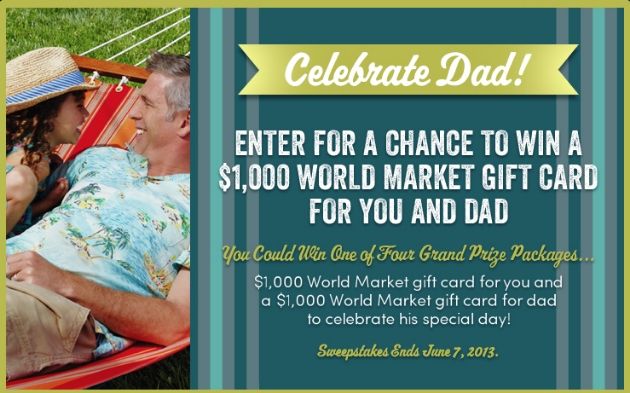 Nominate your Dad here for one of 4 Weekly Grand Prize Packages: $1000 World Market gift card for you and a $1000 gift card for Dad to help him celebrate his special day!
Related articles