This post brought to you by Bolthouse Farms. All opinions are 100% mine.
Who knew carrots could be so good? I must confess that I usually eat my carrots slathered in butter with a little sugar, or raw dipped into some kind of creamy dip. Bad. I know. Bolthouse Farms has opened my mind and my taste buds to new possibilities with their 100% Carrot Juice. I actually like it. A lot!
Bolthouse Farms produces 30+ flavors, ranging from carrot juice and carrot juice blends to Amazing Mango juice to fruit juice blends, breakfast smoothies, and protein shakes. Who are the people behind Bolthouse Farms? Carrot farmers! The Bolthous Farms carrot juice and carrot juice blends are made with carrots that are grown on their farms. Based in Bakersfield, California, Bolthouse Farms is the largest Agri-Solar Farm in North America. Their real life credentials as Carrot Farmers is an important part of Bolthouse Farm's heritage and a message that resonates with consumers.
You can use Bolthouse Farms juice and juice blends in recipes, as a mixer in cocktails, mix them together! You'll find lots of great ideas on the Bolthouse Farms Vine, Twitter, Instagram or Pinterest pages. They even feature holiday eggnog treats.
Get a $1.50 off Coupon with Bolthouse Farms Instagram Juice Recognition Program
The Bolthouse Instagram Promotion is a unique concept that will help make enjoying Bolthouse Farms juices and beverages even sweeter and your participation will help get the word out. Now through December 31st, anyone who 1) Snaps a pic of a Bolthouse Farms bottle or ad, 2) Uploads it to their public Instagram account, and 3) Tags it with #CarrotFarmers and #GotCoupons will get a $1.50 off coupon from @BolthouseFarms in the comments field. Easy peasy!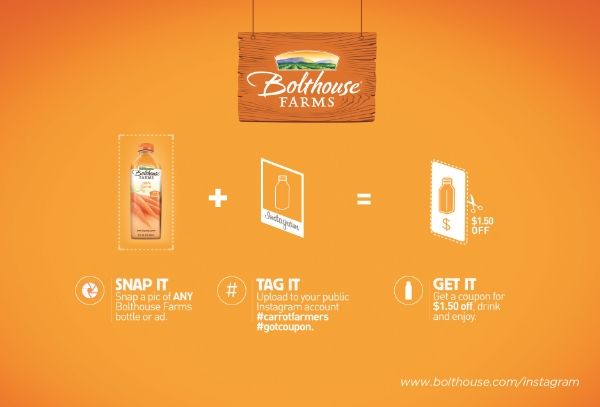 I got my Bolthouse Farms coupon! Will you get yours?
Related articles