Do you still have holiday shopping left to do? Maybe you haven't even started yet? Jake and the Neverland Pirates Jake's Musical Pirate Ship Bucky from Fisher-Price is one toy you'll definitely want to take a closer look at. My little niece and nephew are hug fans of Disney Junior's Jake and the Never Land Pirates, making this toy the perfect Christmas gift for them.
This musical pirate ship is fully equipped to battle Hook and his crew to defend Jake's treasure, including a real working cannon you can fire water ball projectiles from or launch your secret weapon, Tick Tock Croc, who explodes from a hidden trap door! Bucky even has 25 action phrases and fun pirate adventure theme song. All of these cool features are easily activated from the 3 buttons located on the ships deck.
"Yo ho! Let's Go!"
There is also a working slide for the figures to slide down into action. Roll Bucky around and set sail to your next mission. He rocks side to side as if he was really sailing in the ocean. The actual size of this ship is pretty large, and there are a lot of different activities, sounds an phrases. I imagine it will keep the kids thoroughly entertained for many hours to come.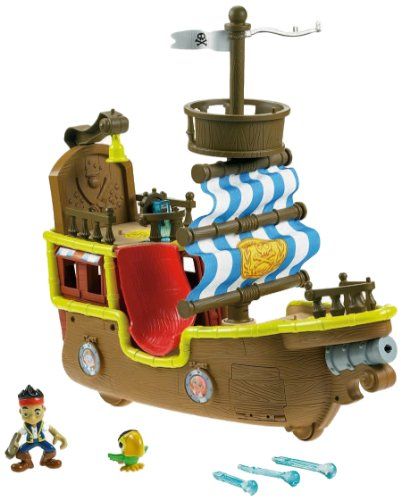 I can't wait to see the kid's faces on Christmas morning when they open the package containing this toy! I have a feeling it's going to be one of their favorite gifts. Jake and the Never Land Pirates Jake's Musical Pirate Ship Bucky is available from the Fisher-Price online shop, Amazon for $45.00, or from your local retailer that sells Fisher-Price toys.
Included with Bucky are Jake and Skully figures, and 3 water ball projectiles. Jake's Musical Pirate Ship Bucky is recommended for children ages 3 and up. This toy requires 3"AA" (LR6) batteries which are not included.
* About A Mom received a sample.