This is a Sponsored post written by me on behalf of Pei Wei Asian Diner for SocialSpark. All opinions are 100% mine.
My friend and I had the opportunity to try out Pei Wei Asian Diner last night. Neither of us had ever been there before. We didn't know what we were missing out on! Pei Wei offers a menu of fresh, high-quality Asian cuisine featuring 35 fresh, hand-cut ingredients. Everything was very fresh. They serve freshly prepared, wok'd to order dishes.
Check out my delicious Thai Lime & Chile with Chicken dish:
Doesn't that look incredibly fresh and appetizing?
Because all items are made-to-order, you can customize each dish to your own liking. I really like that. I think that is really beneficial to anyone with food sensitivities or picky eaters. Pei Wei also offers a variety of gluten-free and vegetarian options. Explore the Pei Wei Asian Diner menu .
Ginger Orange Edamama
The restaurant provides a lively, casual dine-in experience as well as the flexibility, speed and convenience of take-away service to provide guests with tasty options for a quick, light lunch or relaxing dinner. My friend and I were pleasantly surprised by how quickly our dinner was served. And I can definitely see myself stopping in for take-away service on a Friday night and renting a movie.
Pei Wei Asian Diner has introduced a nationwide reFresh in the new year, complete with fresh new dishes, a fresh look and fresh small size entrée. Guests can choose from two wok'd entrée sizes – original and small, with dishes starting at just $6.39. We ordered two small entrées, a salad, and an appetizer to share and that was more than enough food. We ended up with a to-go box.
A new flavor profile is available – Thai Lime & Chile. The new dish features refreshing citrus flavors combined with spicy Fresno chilies. The Thai Lime & Chile is available as a regular or small wok'd entrée served with white or brown rice, or as an entrée salad, incorporating your choice of protein – chicken, steak, shrimp or tofu. We ordered this entrée with chicken. And since my friend prefers white rice and I prefer brown rice, we got half of each. I have to admit we're both a little bit of hot spice wimps, but it wasn't too spicy. It had just the right amount of kick to it. It had a Thai lime pineapple chile sauce, garlic, red onion, snap peas, Fresno chile peppers, cashews, bean sprouts, carrots, cucumbers and cilantro. My friend and I really enjoyed it and agreed we'd both order it again.
Wok Roasted Vegetable Salad
Pei Wei also has new menu additions – Wok Roasted Vegetable Salad, Ginger Orange Edamame and Szechuan Green Beans. I really love roasted vegetables and my friend loves edamame. So we ordered the Wok Roasted Vegetable Salad and the Ginger Orange Edamame. The vegetables in the salad, that included cauliflower, zucchini, carrots, green beans, and scallions, were roasted perfectly and added to assorted lettuce, Napa cabbage, cucumbers, tomatoes, and toasted sesame seeds. The dressing was a miso vinaigrette that was light and fresh. The edamame steamed just right, but didn' have a whole lot of flavo.
For their Wok Fresh Entrées, you pick your choice of protein – chicken, steak, shrimp, or tofu. The other entrée we ordered Lo Mein with steak. It had a rice wine sauce, scallions, garlic, onions, bean sprouts, shiitake mushrooms, carrots, and egg noodles. It was really good. The noodles were cooked perfectly, the steak tender, and the vegetables were fresh.
I have to say, all in all, my friend and are were really pleased with our Pei Wei experience. The food was very fresh and cooked just right, the staff were all really friendly, the service was fast, and the seating was very comfortable. We will both be back there again and will be recommending it to our family and friends.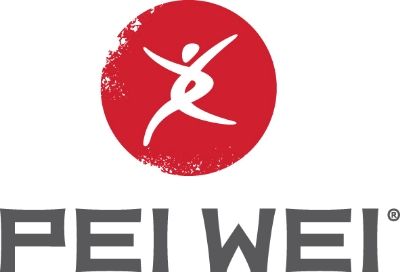 Connect with Pei Wei: Like Pei Wei on Facebook, Follow Pei Wei on Twitter, Follow Pei Wei on Pinterest.
5/6 Update. This contest has ended. Our winner is #61 Christina S.