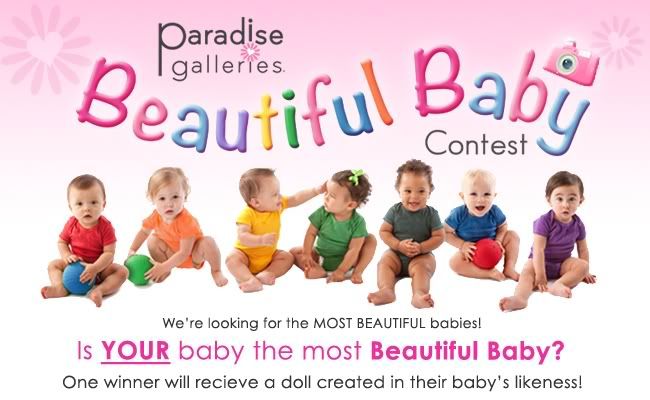 For more than 20 years Paradise Galleries has been a leader in bringing the magic of award winning dolls to collectors around the world. This year, the company presents a new and unique contest to find the most beautiful baby and have a
master sculptor
recreate his or her likeness in clay for molds to be made for reproduction.
The complete doll will be available just in time for the Holiday season 2012 and will be featured in the coveted Holiday keepsake catalog. To sign up to receive the Company's catalogs go to the Paradise Galleries website.
To find the beautiful baby for this unique doll 10 contestants will be chosen from entries made through the following Rafflecopter. The highest considerations goes towards the entrants with the most entry points. Once the 10 are chosen, their photos will be posted on Paradise Galleries' Facebook Page for people to vote. The baby with the most votes on March 25, 2012 @ 11:59PM will be the winner of Paradise Galleries Beautiful Baby Contest.
Photo Submissions:
All photos must be emailed to: [email protected]. And must meet the following rules:
1) Show the full face and head. No bonnets, hats, sunglasses, etc.
2) Images must be .jpg, or .tiff format and no larger than 5 MB in file size
3) Please indicate your Full Name, Address, Phone Number, Email Address and Full Name of the Baby and their age
4) Once a photo is submitted it is considered a final submission and may not be modified or edited, or replaced. Contestants may submit no more than one photo.
5) Retouching of Photos: The submitted contest photograph cannot be retouched: nothing in the photographs (people, animals, scenery, objects, etc.) may be altered, removed, augmented or rearranged. Cropping is permitted, as is modest darkening or lightening of parts of the image.
6) Limit one (1) Entry per person, per email address and per household. Entries received from any person or email address or household in excess of the limitation will be void. All Entries become the sole property of the Company and will not be returned.
Additional entries from the same household during the Contest Period will be disqualified.
a Rafflecopter giveaway