We are in party planning mode this week. On Saturday we will be having Maddie's 11th birthday party, after cheer leading practice. Maddie is going to have an amazing birthday party this year thanks to ShinDigz Party Supplies who has generously sponsored her party with a $100 gift certificate!
There are so many great party supplies to choose from on the ShinDigz web site. I don't think I have ever been on a web site before that has so many different themes and party supplies available! There are over 36,000 party related items to choose from. Maddie decided very quickly that she wanted the Party Pups birthday theme, since she and her dog Mocha share the same birth date. The hard part was deciding which items from the Party Pup line to get. She finally selected the following items:
Party Pups Plastic Table covers
Candy Stripe Candles in Blue
Party Pups 9 oz hot/Cold Cups
Party Pups Printed Streamers
Party Pups Printed Latex Balloons
Party Pups Luncheon Napkins
Curling Ribbons in Lime and Purple (for balloons)
Party Pups Dinner Plates & Dessert Plates
11" Purple Latex Balloons
Party Pups Dangling Cut Outs Decorations
20 Personalized Milk Chocolate Lollipops
18"x54" Horizontal Personalized Vinyl Banner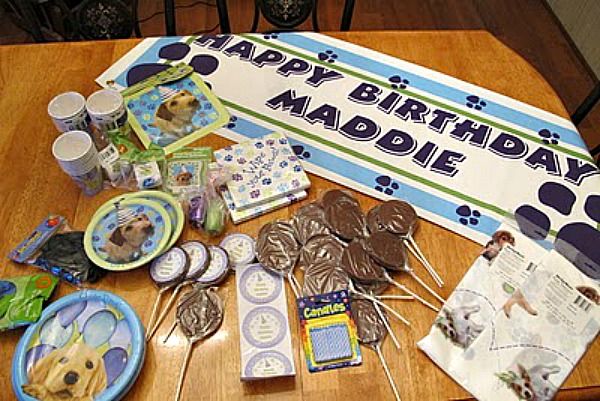 The personalized vinyl banner is so cool! It is so much larger than we thought it would be and is very durable so we can use it again.
All of the paper goods and decorations are very cute. The Dangling Cut Out decorations are just awesome and definitely one of my favorite items! Everything coordinates perfectly and we can't wait to see it all put together on the day of her party!
The Personalized Milk Chocolate Lollipops will be the envy of all Maddie's friends! They arrived packaged with ice packs to keep them perfectly preserved. Each lollipop has a custom sticker with Maddie's name and Happy Birthday and they match all of the other party items.
The birthday girl has decided that she wants a 2 tier fondant covered birthday cake with paw prints to match her ShinDigz Party Supplies, so I will be very busy later this week. She also wants her Dad's famous chili and hot dogs, Grannie Wright's sweet tea and Grannie Laura's mac and cheese. Sounds like a great party doesn't it?
Get It: Are you planning a Halloween party? ShinDigz has an amazing selection of Halloween party supplies! Let ShinDigz help you plan your next celebration! You will find the Party Pup party supplies like ours and many other party supplies on the ShinDigz web site. ShinDigz is also on Facebook and Twitter.
Stay tuned…Next week I will be sharing our birthday party success and lot's of pictures with you!
This Giveaway Has Closed.