I have so much appreciation for teachers. Patience, determination, kindness, and love are just a few of the many words that come to mind when I think about teachers. We have been blessed to have had many wonderful teachers over the years and were excited to have the opportunity to say the words "You've Been Bagged" to one of our favorite teachers, through the Elmer's Bag It Forward program. I know that most teachers come out of pocket to make sure their students have the supplies they need throughout the school year, so giving a bag of school supplies to a teacher is a great way to reach and help many children in need.
It seems like summer break just started, so I wasn't quite ready for the big sign looming over the school supplies section at our local Walmart last week. I have to admit that the words "more school for your money" is pretty accurate, as we found many great deals on school supplies.
Right away we noticed the Elmer's 1st Day of School Display in the center aisle. The display included back to school supply lists for our local schools, as well as the Elmer's 1st Day App QR code. The free mobile phone app helps students, teachers, and families share important education milestones and help those in need. The new app allows you to snap photos of your kids on the big day in addition to those special "firsts" and other important events the whole year through so you can watch them grow. Plus, For every photo uploaded, Elmer's will donate one product to The Kids in Need Foundation (up to 200,000 products).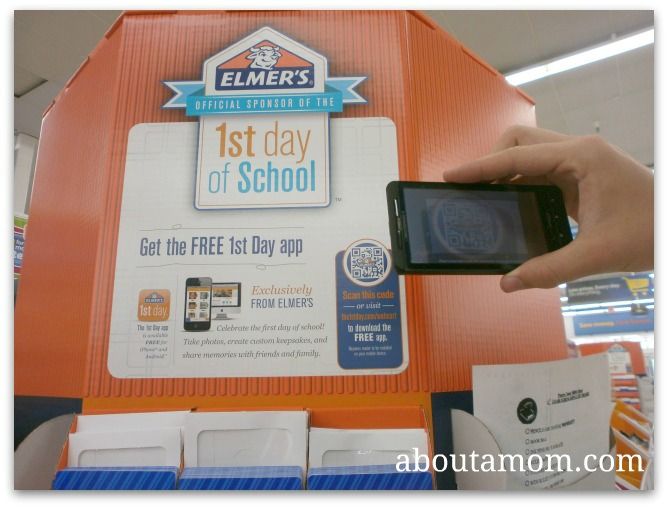 Downloading the app using the QR code was easy peasy, and in no time at all we were uploading photos of the kids shopping for school supplies.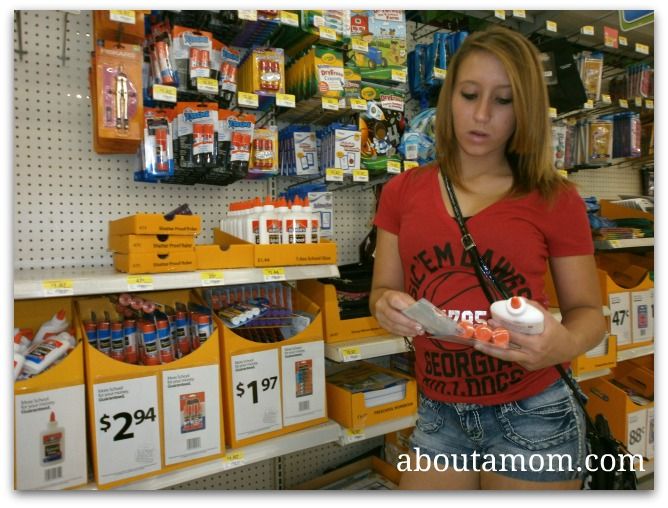 Becca had a lot of fun shopping and found some great deals on Elmer's glue products and other school supplies.
Our Walmart had a large Elmer's display in the center of the store, where we were able to score deals like glue sticks for only 10 cents. Prices like this make it easy to bag it forward!
We were able to pick up a lot of great school supplies to #bagitforward to our favorite teacher Mrs. Hilson. After church on Sunday we presented Mrs Hilson with a bag of the school supplies we purchased for the Elmer's #bagitforward program. She was so very touched and appreciative of the gift. Mrs Hilson teaches 8th grade Math and has been teaching for 25 years. In addition to teaching Math, she is also coach for the school's varsity cheerleading team. Mrs Hilson is one of those teachers who truly cares about her students. We know the gift will be put to good use!
Do you have a favorite teacher deserving of school supplies? While shopping for school supplies at Walmart this summer, be sure to look for Elmer's 1st Day of School Display and download the 1st Day App and help Elmer's give back to students and teachers in need.
Please check out our Google+ Album to see more pictures from this fun shop!
Connect with Elmers – Facebook, Twitter, #BagItForward on Pinterest
Disclosure: I am a member of the Collective Bias™ Social Fabric® Community.  This content has been compensated as part of a social shopper insights study for Collective Bias™ and Elmer's.  #BagItForward #CBias #SocialFabric