This post brought to you by Walmart. All opinions are 100% mine.
Having a baby is expensive. Everything from doctor bills, to formula and diapers adds up so quickly. As a young and inexperienced mom, I don't think I was fully prepared for the cost that comes with having babies. Thankfully, there there were women in my life like my Mom who gave me advice and guided me. One of the things I learned to my Mom, who raised 4 children on a budget, is how to be frugal. I have learned that it pays off, and sometimes in a big way, to spend a little time researching products and finding the best price.  
The many things that babies need like diapers, formula and proper nutrition can put a big dent in the family budget. I was able to nurse my son for the first few months, but when I had to begin supplementing with formula I was taken back by the cost. We all know that it's best to breastfeed your baby. However, there are situations which come up which might require your baby to need formula in addition to, or in lieu of breast milk. It doesn't have to cost you a small fortune, because there are some ways to save money on infant formula.

Signing up for free samples and loyalty programs will help you to save on formula. Stick with powdered formula, if you can. You will often pay less for the powdered varieties than the ready made formula. Participate in a coupon swap to get formula coupons. Shop at mass merchandisers like Walmart for the lowest prices. Parent's Choice™ Infant Formula is a great option at Walmart. In fact, parents are saving as much as $600 when they switch to Parent's Choice™ Baby Formula. It looks like I could have saved $414.72 a year on my son's formula. That's a lot! Find out exactly how much YOU can save when you visit Walmart's Parent's Choice™ webpage. Let me know what you find out!
Parent's Choice Formulas are clinically proven to be as well tolerated as the national brands. Parent's Choice™ Formulas cost much less than other leading brands. Just like the leading brands, Parent's Choice™ meets FDA standards for infant formula, contains DHA and ARA (which may support brain and eye development), and probiotics to support your baby's immune system. You can visit the Parent's Choice™ webpage to see all the comparisons between the Parent's Choice™ formulas and Similac® and Enfamil ®formulas.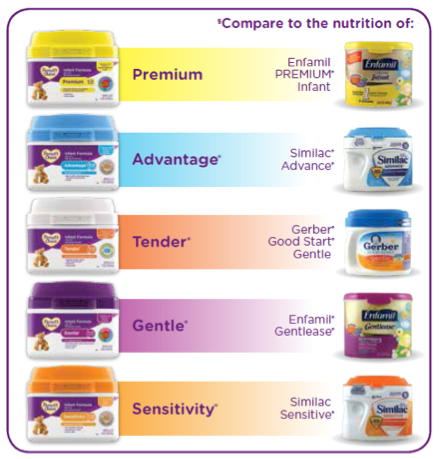 Parent's Choice™ Infant Formula is an amazing option for moms everywhere, allowing them to give their baby the nutrients they need and save money in the process. So go online and check out Parent's Choice™ so you can give your baby the best and save money at the same time!
Related articles