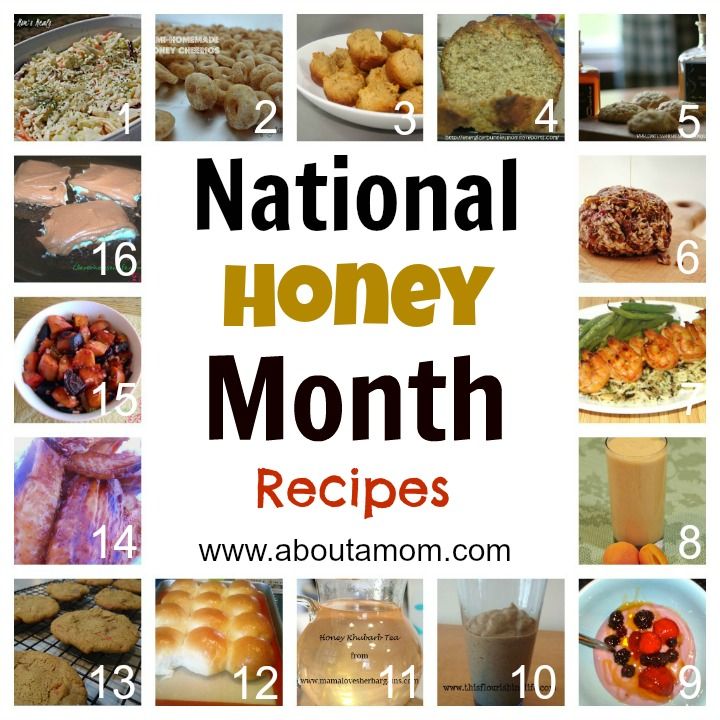 September is National Honey Month! Let's celebrate honey and all it's natural goodness. We thought it would be fun to celebrate with a roundup of delicious National Honey Month Recipes, but first let's take a look at some interesting honey facts courtesy of the National Honey Board.
Honey Facts
What is honey? A bottle of pure honey contains the natural sweet substance produced by honey bees from the nectar of plants or secretions of living parts of plants. Nothing else.
Bees work hard! The 60,000 or so bees in a beehive may collectively travel as much as 55,000 miles and visit more than two million flowers to gather enough nectar to make just a pound of honey!
Why is honey different colors? The color and flavor of honey differ depending on the bees' nectar source (the blossoms). In fact, there are more than 300 unique kinds of honey in the United States, originating from such diverse floral sources as Clover, Eucalyptus and Orange Blossoms. In general, lighter colored honeys are mild in flavor, while darker honeys are usually more robust in flavor.
National Honey Month Recipes
1. Honey Mustard Coleslaw will be a big hit at your next family BBQ!
2. You won't find a better breakfast or snack than Semi-Homemade Honey Cheerios.
3. These Peanut Butter Banana Bread treats are for the dogs (and humans too)!
4. This Honey Oat Quick Bread is simple enough to make on a busy week night.
5. Honey Oatmeal Cookies made with premium H0rchata honey…yummy!!!
6. A Fresh Cherry Cheese Ball featuring honey would be perfect for the holidays.
7. A honey glaze gives these Sweet Asian Grilled Shrimp the perfect balance of sweetness.
8. Fresh Apricot Smoothies naturally sweetened with honey…need I say more?
9. Dazzle your guests with a Deconstructed Parfait that is both gluten and dairy free.
10. This Sort-Of Green Smoothie recipe is definitely delicious!
11. Honey Rubarb Iced Tea is sure to become a staple at my house.
12. Honey gives just a touch of sweetness to these Homemade Yeast Rolls.
13. This Milk Chocolate and Peppermint Cookies recipe is gluten free.
14. Honey is part of the special marinade for these gluten free Teriyaki Wings.
15. Both the bounty of the garden and honey are featured in this Beets and Sweets Salad recipe.
16. Let's not forget dessert! Honey is a perfect addition to Mint and Chocolate Frosted Brownies.
Is honey the secret ingredient to any of your favorite recipes?