This is a Sponsored post written by me on behalf of Carole P. Roman for SocialSpark. All opinions are 100% mine.
Ahoy mateys, it's time to climb aboard the Flying Dragon pirate ship for another Captain No Beard tale. This new tale continues on with the Captain's ragtag crew of scallywag shipmates: Linus the Lion, Fribbet the Frog, Mongo the Monky, and first mate Hallie. Pepper Parrot's Problem with Patience introduces a new character, Pepper Parrot, and is a story about patience and friendship, as Pepper Parrot gets help from another member of the animal crew, Hallie, the ship's first mate.
In this story, author Carol P. Roman tells a wonderful tale about teamwork. The book can be used as a lighthearted teaching tool for dyslexia. After joining the crew of the Flying Dragon, Pepper Parrot becomes frustrating while attempting the drills with the others. Pepper has trouble with words and their meanings, and doesn't know her right from her left. She becomes anxious as she cannot keep up with the other crew members.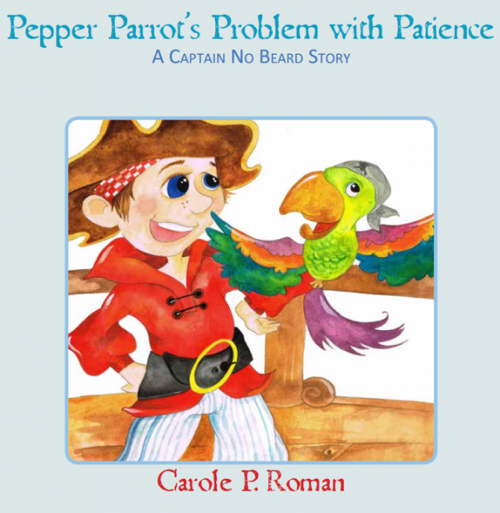 First mate, Hallie, comes to Pepper Parrot's rescue and patiently teaches her the difference between left and right. Pepper Parrot becomes confident in her abilities, as her disappointment and sadness disappear.
We all face challenges in life, and can somehow relate to Pepper Parrot's struggles. Hopefully, we can all also tell a tale of a friend or authority figure who came along to help us.
Pepper Parrot's Problem with Patience: A Captain No Beard Story is a tale of team work and self-esteem, and is a story that will resonate with both children and parents. As a parent of a child who had some learning challenges, I really appreciate a book like this that offers such encouragement.
Carole P. Roman, a former teacher turned business woman, is author of the award winning Captain No Beard: An Imaginary Tale of a Pirate's Life. Pepper Parrot's Problem with Patience is a continuation of this series. She has also authored the book series I Want to Do Yoga, Too and is working on a new educational series that explores different cultures from a child's point of view.
Related articles