This is a Sponsored post written by me on behalf of ZzzQuil for SocialSpark. All opinions are 100% mine.
Lately, I have been having trouble sleeping. Like most parents I worry too much. When I lay down to fall asleep so many different things are running through my head. I worry about everything, and it seems to be worse when I have to get up early for something. It never fails, if I set the alarm clock early and have somewhere to be first thing – I am sure to lay awake restless all night. Now thanks to ZzzQuil I can get to sleep fast.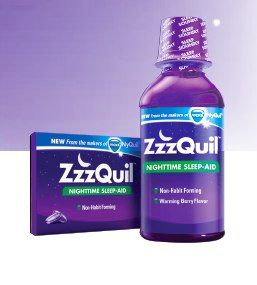 I have tried it all, from chammomile tea and herbal remedies to a warm cup of milk at bedtime. I know there are many prescription sleep aids on the market, but I don't think I am ready for that. I don't suffer from regular insomnia, but just occasionally need a little help falling to sleep. I was happy to participate when given the opportunity to try ZzzQuil from the makers of NyQuil – something that saved me from a few sleepless nights when I had a miserable cold last winter.
ZzzQuil is the only over-the-counter sleep-aid medication available in both a pill and liquid form. I don't normally purchase liquid medications for myself, but I did try the liquid ZzzQuil and have to admit that I didn't really mind the warming berry flavor at all. ZzzQuil did exactly what it was supposed to. It helped me to fall asleep fast and stay asleep. I even put it to the ultimate test and took it the night before I had to get up at 5:00 AM to catch an early flight. I am always nervouse before traveling, and it was such a relief to get a good nights sleep. I do need to say that it's important that you take ZzzQuil when you have time to get a good nights sleep, otherwise you will wake up feeling groggy. I wouldn't recommend taking it if you only have a few hours to catch some Zzzs. It contains the active ingredient diphenhydramine HCI that helps reduce the time it takes for you to fall asleep.
As a parent I do want to caution you – as with any drug, be sure to keep ZzzQuil out of children's reach. The liquid is purple which might be appealing to kids. ZzzQuil is inteneded only for adults and children 12 years of age and older.
Do you have trouble falling asleep? Have you tried ZzzQuil? Tweet about your experience using the hashtag #ZzzQuilNight
More information about ZzzQuil is available online. You can also like ZzzQuil on Facebook.
Related articles