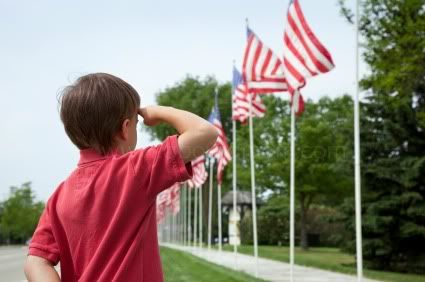 Memorial Day, originally called Decoration Day, is a day of remembrance for those who have died in service to our country. It can be difficult to help children understand the significance of Memorial Day or to grasp the sheer number of men and woman who have died serving our country, so that we may enjoy freedom. Listed below are some Memorial Day activities to help your children remember.
1. Visit a Military Cemetery or Memorial. Bring flowers or prepare a statement of thanks to read aloud while you are there.
2. Read "The Wall", a Reading Rainbow book, by Eve Bunting ($6.99 on Amazon) or visit your local library and read some other books on Memorial Day.
3. Send a letter or care package to servicemen and women serving abroad through the AdoptaPlatoon Program or A Million Thanks Program.
4. Pay a visit to a Veteran's Hospital and spend some time listening to the stories of injured servicemen. Pass out some small flags, a small gift or homadee craft as a token of your appreciation.
5. Recite the Pledge of Allegiance and sing the National Anthem. If you don't have a flag, a printable flag coloring page can be found here.
In what ways will you be remembering this Memorial Day?